Sheena M. Eagan, MPH, PhD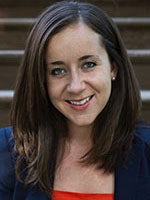 Assistant Professor
252-744-2492
eagansh17@ecu.edu
Sheena M. Eagan is an Assistant Professor with the Department of Bioethics and Interdisciplinary Studies, as well as adjunct faculty with the Department of Public Health. Dr. Eagan is a faculty advisor to BSOM's Military Medicine Interest Group, and one of the coordinators of the Medical Readers' Theater Program. She is the course director for two courses in military medical ethics (one honors seminar and one M-4 elective), and teaches as part of the HUMS 6400 Society, Culture and Health Systems ethics course.
Dr. Eagan was awarded her PhD in the medical humanities from the Institute for the Medical Humanities at the University of Texas Medical Branch in Galveston. Her doctoral studies focused on medical ethics and the history of medicine. She also holds a MPH from the Uniformed Services University of the Health Sciences and a BA in philosophy and history from the University of New Brunswick in Canada.
Dr. Eagan is the leader of the ASBH Affinity group for Military, Humanitarian and Disaster Medicine.  She has worked closely with the International Committee of Military Medicine; lecturing at their annual workshop on military medical ethics, contributing work to their publications, and currently serving on the editorial board for their new books series. Dr. Eagan has worked with the NATO Center for Excellence in Military Medicine and maintains close connections with local military installations. Currently, she works as a consultant/subject matter expert for the Naval Medical Center Camp LeJeune Institutional Review Board. She is also part of the September 11th Consortium of Scholars, and as been affiliated with the Center for Medicine since 2010.
Dr. Eagan has published articles in peer review journals, military-specific journals and contributed to edited books on a variety of topics in military medicine. She has also presented papers at academic conferences in North America, Asia, the Middle East, and Europe.
---
Areas of Interest
Medical Humanities
Military Medicine/Military Ethics
Public health ethics
History of medicine